Showing posts tagged "Arab Spring."
Egypt: How To Ensure Free And Fair Elections?
Yesterday in this space we discussed the upcoming elections in Egypt, and the need for international observers to work alongside local organizations to ensure the fairness and accuracy of the polls. International and local observers working together would allow reports of fraud, intimidation, and other improprieties to be more easily verified, increasing the legitimacy of the observation mission.
But what if Egypt's military continues with its ban on foreign observers, and the burden of monitoring these critical and momentous elections is placed entirely on Egyptian citizens? What are some of the ways the observation mission can be empowered and bolstered without the presence of international monitors?
Capacity Building - While foreigners are banned from working on the ground, they can still provide training and equipment to local observers inside Egypt. This might include holding workshops on journalism and election law, or even providing smartphones or cameras so observers can better document the process. It is important these capacity building missions remain disinterested toward political actors and election results in order to protect the safety of locals and the credibility of the observation mission.
Tech Support - There are a variety of tools available for acquiring, publishing and distributing election observation data, such as mapping incident reports on Ushahidi or collecting mobile reports from citizens via FrontlineSMS. Those outside Egypt can work to ensure that these tools are deployed and maintained in a way that is both accessible and intuitive to Egyptian monitors working on the ground. This might come from existing media development and observation organizations, or from crowdsourcing, by activating something like the Standby Task Force (SBTF). 
Media Focus - International news agencies can target their coverage on Egypt's elections with a special focus on the legitimacy of the polling process. Foreign press can downplay unhelpful reporting and commentary, such as Western hand-wringing over religious parties or overemphases on the role and agency of foreign powers, while focusing instead on providing meaningful context to international viewers. What are the stakes of this election? Who are the political players, and what policies are to be decided? Answering these and other questions will allow the international audience to truly understand - and respond accordingly to - Egypt's election.
Citizen Media - Citizens on the ground, using mobile phones, digital cameras, laptops, and all manner of multimedia tools, can harness the power of the press for themselves in order to document the election process. This allows not only local civil society and monitoring organizations but individual citizens themselves to publish their findings and tell their own story to the world without relying on mainstream institutions. Citizen media is flexible enough to operate in particularly dangerous (or plainly unwelcoming) environments, such as a repressive police state. And yet, provided with the right skill sets, it is still high quality enough to deliver substantive journalism with the timeliness and impact required for monitoring this critical election.
Education - Egyptian citizens must be educated on the specifics of the election process, including not only procedure (How do you register? Where is your polling station?) but also the issues at stake (Who are the candidates? What is their platform?) and the obligations of individuals and the government (What are your rights? How do you spot illegal campaigning or fraud?). This education can be done in a variety of ways, from using traditional social networks, such as family, classmates, and religious communities, to tapping digital social networking like Facebook and Twitter. As witnessed during the anti-Mubarak uprisings earlier this year, Egypt's communities are more than capable of disseminating information and coordinating activities amongst the population. This power can be harnessed again to ensure a fully equipped and informed electorate on voting day.
There are several examples of where election monitoring can be conducted in less than ideal circumstances, be it in police states with no access to foreign observers or in conflict zones with very little infrastructure and media access. Here are a few: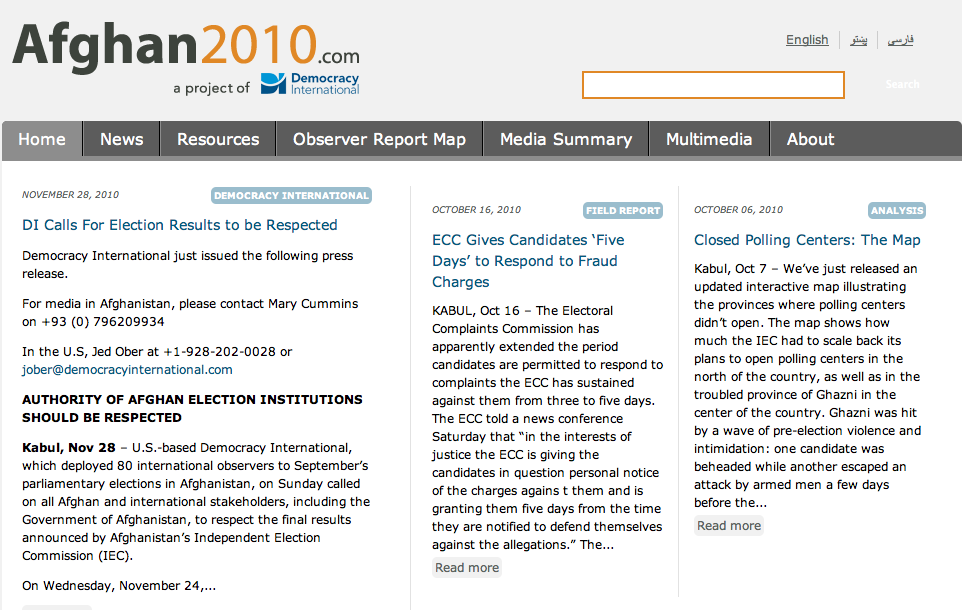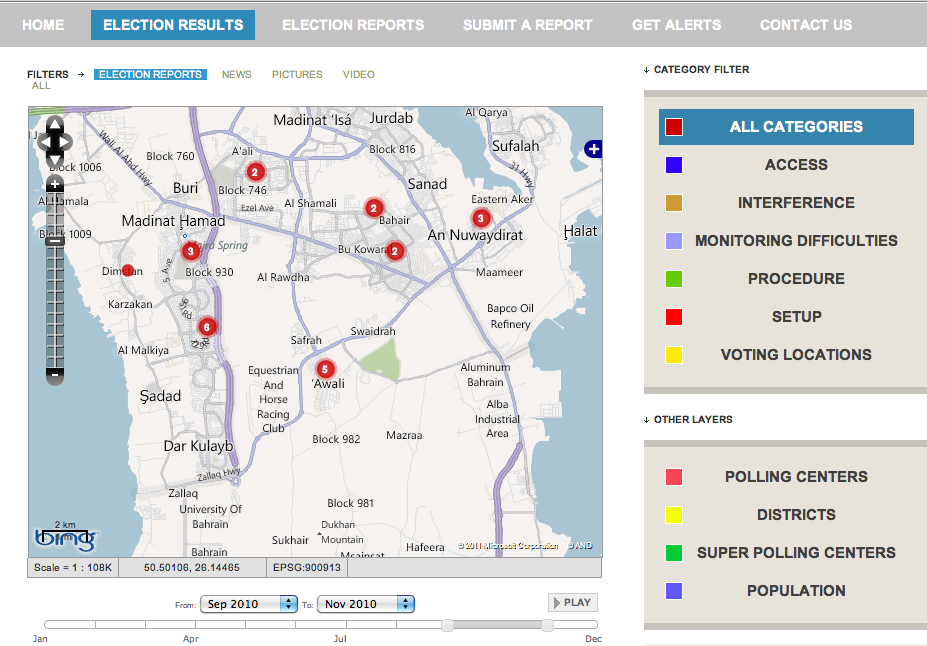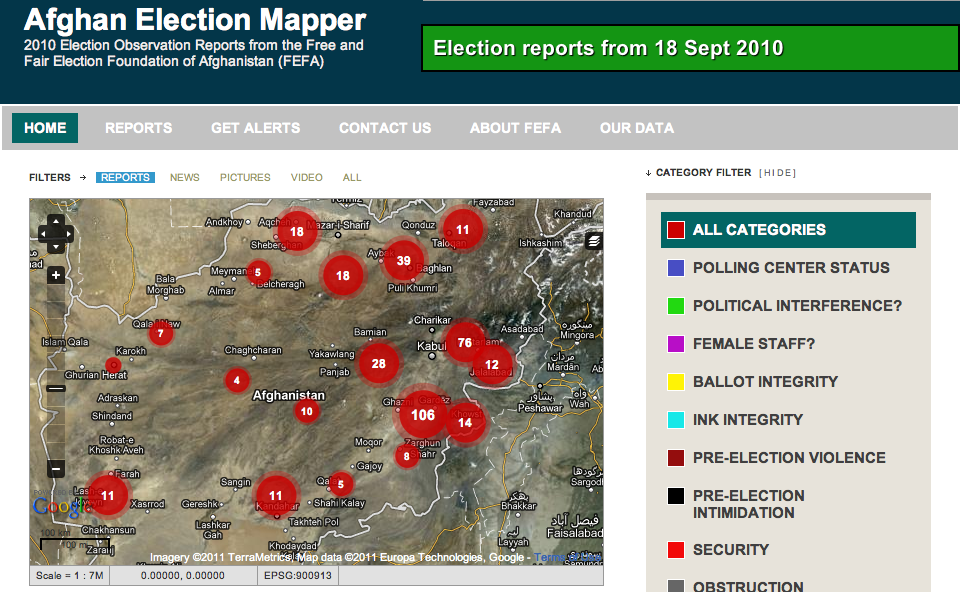 Monitoring elections is an incredibly complex and difficult task, particularly in this case with the crucial and unprecedented post-revolutionary elections in Egypt.
What are some of the other ways both the international community and Egyptian citizens can work to ensure a free and fair election? We will continue to monitor this story closely, and your suggestions, comments, and solutions are welcomed.
//Photo by Bikyamasr.com
Egypt will start parliamentary elections on November 21, Al Arabiya Television and the Al-Ahram newspaper reported on Saturday, the country's first vote since a popular uprising toppled President Hosni Mubarak in February after 30 years of autocratic rule.

Al-Ahram quoted Egypt's election commission head, Abdel Moez Ibrahim, as saying voting for the lower house, the People's Assembly, will be held in three stages starting on November 21 and ending on January 3. Voting for the upper house, the Shura Council, will begin on January 22, 2012 and finish on March 4.
These dates aren't confirmed, they're only leaks to regional media outlets. A spokesmen for the military says only that the official dates will be announced on September 26. 
The legitimacy of these polls, with history as a guide, are to be rightfully questioned. Reuters reports that some efforts are being made to ensure a free and fair election:
The [Supreme Council of the Armed Forces] has said the judiciary will oversee the vote to ensure a free and fair poll. A member of the council said in July the election will be held in three stages to make it easier for monitors to oversee voting.
One question is the role that international media and election monitoring organizations will play in the transition to credible democracy. Although Egypt's revolution was successful in overthrowing the Mubarak regime, Egyptians still live under a military junta accustomed to total domination of society, including within the judiciary offered as one of the primary election monitors.
In July, the junta announced that there would be no foreign observers allowed to monitor the upcoming elections, citing the need to protect Egypt's sovereignty. During Egypt's last elections (under the Mubarak regime), fraud and election improprieties were widespread and well-documented, as Patrick Meier wrote back in May:
Another report submitted on December 5, 2010 was even more specific: "Buying out votes in Al Manshiaya Province as following: 7:30[am] price of voter was 100 pound […]. At 12[pm] the price of voter was 250 pound, at 3 pm the price was 200 pound, at 5 pm the price was 300 pound for half an hour, and at 6 pm the price was 30 pound." Another report revealed "bribe-fixing" by noting that votes ranged from 100-150 Pounds as a result of a "coalition between delegates to reduce the price in Ghirbal, Alexandria." […]

Additional incidents mapped on the Ushahidi platform included reports of deliberate power cuts to prevent people from voting. As a result, one voter complained in "Al Saaida Zaniab election center: we could not find my name in voters lists, despite I voted in the same committee. Nobody helped to find my name on list because the electricity cut out." […]

Reports also documented harassment and violence by thugs, often against Muslim Brotherhood candidates, the use of Quran verses in election speeches and the use of mini buses at polling centers to bus in people from the National Party. […]
As thoroughly and specifically as these incidents are documented, their validity can still be questioned due to the fact that they come singularly from Egyptian activists. Activists are burdened with incentives and interests that might tarnish the quality of their reporting, whereas international organizations (such as the Carter Center or Democracy International) don't come with these same biases and fallibilities. 
Until full trust and credibility is restored to Egypt's government and civil society institutions - including the judiciary - then impartial, international observers must be allowed to monitor the upcoming elections. 
(Source: juancole.com)
Via Musings on Iraq, we see that the Arab Spring, widespread uprisings across the Middle East and North Africa, continue in Iraq.
On September 9, 2011, protests occurred throughout Iraq for the first time in over six months. There were events in ten cities across nine of Iraq's eighteen provinces, including Baghdad, Qadisiyah, Babil, Basra, Diyala, Anbar, Muthanna, Maysan, and Najaf. It was called "Friday of Denouncement of Bad Services and Suppression of Freedoms." Demonstrations started in the country back at the end of January, but tapered off in the face of a concerted effort by the government to break them up. Since then, protests have continued, but they have been very small. Activists were finally able to organize nation wide assemblies calling for the government to reform, but it's unclear whether they will have any long-term impact.
Further…
The problem for the activists is that they have not been able to sustain their effort. At first, they held assemblies every week for two months. Then the authorities cracked down on them, while offering reforms, and the crowds largely disappeared. There are still protests every Friday in Baghdad's Tahrir Square, but they are very small. Without constant effort they will not have any power to pressure the government. That added with the fact that the Prime Minister Maliki has shown no willingness to do anything but make empty promises means that September 9's events will likely have no long-term affect. The politicians are largely immune to public pressure anyway, and are caught up in their own petty arguments rather than concerned about the public's needs. The elite know that there are all kinds of shortages and major problems affecting the country, but either do nothing or lack the authority to enact any real change. That's the sad reality of present day Iraq. Only massive and sustained demonstrations by the public could break this status quo, but organizers have not been able to make that a reality so far. The demonstrations, and their lack of affect have thus exposed the limits of Iraq's democracy.
The question to ask here is why the protests have been heretofore unsustainable.
Is it an indication of the hierarchal nature of Iraqi politics, in that each bloc or constituency can be manipulated into protesting - or acquiescence? Or is it a lack of communication and media coverage available to both protesters and Iraqi citizens? Put simply, is the coverage of these protests reaching the intended audience, and is there even enough coverage to begin with?
The fact that when we think of the Arab Spring, Iraq doesn't immediately come to mind, should tell us something about the perception of the Iraqi demonstrations, at least as far as the international audience is concerned.