Showing posts tagged "development."
"The hard work of a living democracy does not end when the votes are tallied and the winners announced; instead it offers the chance to reconcile and to advance greater security and prosperity for its people."
"American aid and economic development in Pakistan and Afghanistan have been aimed at 'quick impact projects,' which are intended to win hearts and minds, but which, like instant oatmeal, dissolve quickly."
Egypt: How To Ensure Free And Fair Elections?
Yesterday in this space we discussed the upcoming elections in Egypt, and the need for international observers to work alongside local organizations to ensure the fairness and accuracy of the polls. International and local observers working together would allow reports of fraud, intimidation, and other improprieties to be more easily verified, increasing the legitimacy of the observation mission.
But what if Egypt's military continues with its ban on foreign observers, and the burden of monitoring these critical and momentous elections is placed entirely on Egyptian citizens? What are some of the ways the observation mission can be empowered and bolstered without the presence of international monitors?
Capacity Building - While foreigners are banned from working on the ground, they can still provide training and equipment to local observers inside Egypt. This might include holding workshops on journalism and election law, or even providing smartphones or cameras so observers can better document the process. It is important these capacity building missions remain disinterested toward political actors and election results in order to protect the safety of locals and the credibility of the observation mission.
Tech Support - There are a variety of tools available for acquiring, publishing and distributing election observation data, such as mapping incident reports on Ushahidi or collecting mobile reports from citizens via FrontlineSMS. Those outside Egypt can work to ensure that these tools are deployed and maintained in a way that is both accessible and intuitive to Egyptian monitors working on the ground. This might come from existing media development and observation organizations, or from crowdsourcing, by activating something like the Standby Task Force (SBTF). 
Media Focus - International news agencies can target their coverage on Egypt's elections with a special focus on the legitimacy of the polling process. Foreign press can downplay unhelpful reporting and commentary, such as Western hand-wringing over religious parties or overemphases on the role and agency of foreign powers, while focusing instead on providing meaningful context to international viewers. What are the stakes of this election? Who are the political players, and what policies are to be decided? Answering these and other questions will allow the international audience to truly understand - and respond accordingly to - Egypt's election.
Citizen Media - Citizens on the ground, using mobile phones, digital cameras, laptops, and all manner of multimedia tools, can harness the power of the press for themselves in order to document the election process. This allows not only local civil society and monitoring organizations but individual citizens themselves to publish their findings and tell their own story to the world without relying on mainstream institutions. Citizen media is flexible enough to operate in particularly dangerous (or plainly unwelcoming) environments, such as a repressive police state. And yet, provided with the right skill sets, it is still high quality enough to deliver substantive journalism with the timeliness and impact required for monitoring this critical election.
Education - Egyptian citizens must be educated on the specifics of the election process, including not only procedure (How do you register? Where is your polling station?) but also the issues at stake (Who are the candidates? What is their platform?) and the obligations of individuals and the government (What are your rights? How do you spot illegal campaigning or fraud?). This education can be done in a variety of ways, from using traditional social networks, such as family, classmates, and religious communities, to tapping digital social networking like Facebook and Twitter. As witnessed during the anti-Mubarak uprisings earlier this year, Egypt's communities are more than capable of disseminating information and coordinating activities amongst the population. This power can be harnessed again to ensure a fully equipped and informed electorate on voting day.
There are several examples of where election monitoring can be conducted in less than ideal circumstances, be it in police states with no access to foreign observers or in conflict zones with very little infrastructure and media access. Here are a few: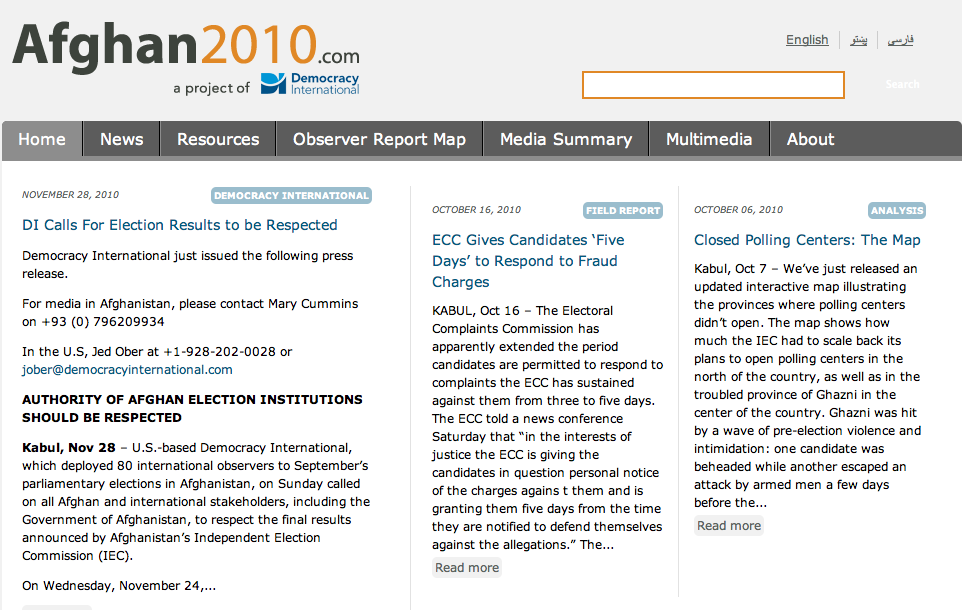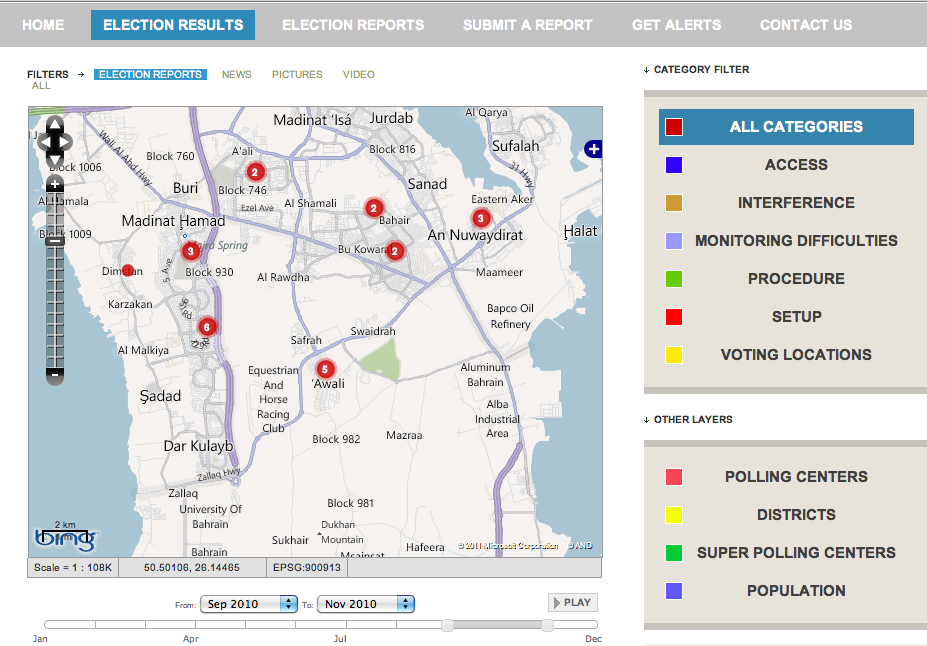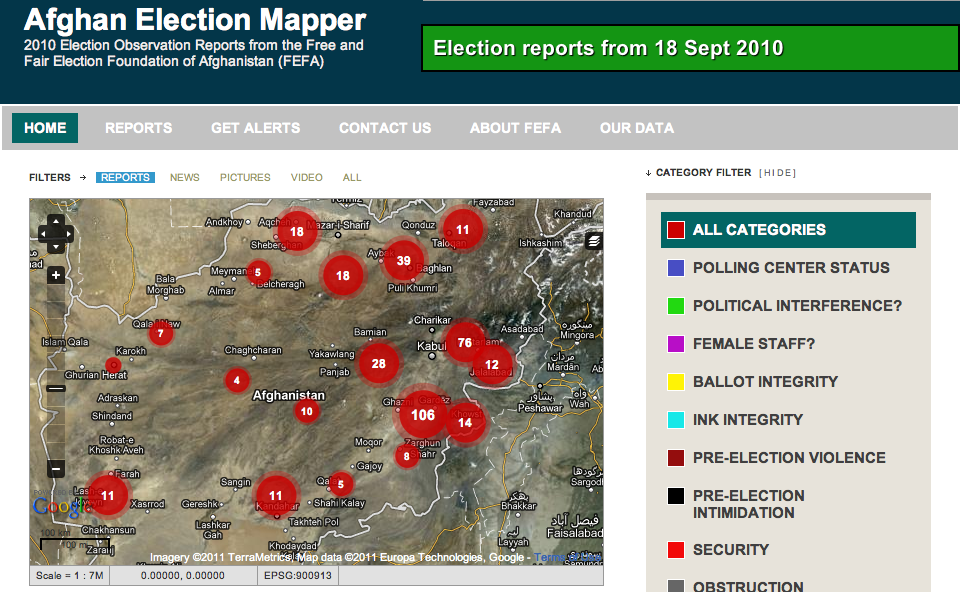 Monitoring elections is an incredibly complex and difficult task, particularly in this case with the crucial and unprecedented post-revolutionary elections in Egypt.
What are some of the other ways both the international community and Egyptian citizens can work to ensure a free and fair election? We will continue to monitor this story closely, and your suggestions, comments, and solutions are welcomed.
//Photo by Bikyamasr.com
"If it works in Africa, it'll work anywhere."
Via White African comes this video from Shimba Technologies showing off their new app, MedAfrica. The app allows users in Kenya, where a population of 40 million has access to only 7,000 doctors, to receive medical advice and make contact with medical specialists even with the country's deficit of infrastructure. 
This is a good example of the "Developing World = Developer's World" concept in the development field. Kenya presents a host of challenges to technology developers, from lack of infrastructure (electricity, broadband, etc) to vast distances between communities. But by overcoming these challenges to produce something like MedAfrica, the developers have not only solved the immediate problem but have also produced a stronger, more resilient product.
As Mbugua Njihia says in the MedAfrica presentation, "if it works in Africa, it'll work anywhere." If you can produce an application that provides medical access and services to citizens in a developing country/emerging market context, then that product is easily scaled to more developed/industrialized countries. 
Emerging markets provide lucrative business opportunities for technology developers, but they also provide the unique advantage of ensuring that the product is exceptionally suited to almost any environment, developed or otherwise. This benefit of working in developing countries cannot be overstated.
With the proliferation of mobile and internet applications providing services to citizens worldwide, the ability to deliver efficient, high-impact results regardless of location or infrastructure will become a critical benchmark for new applications. Indeed, developers looking to maximize the strength and universality of their product may eventually take on a more provocative framing of Njihia's truism: "If it doesn't work in Africa, it might as well not work at all."
Reblog
19/09/11
URL
In a somber, yet bold, reportage, photographer Franco Pagetti reveals the daily struggle to survive in the Democratic Republic of Congo's North Kivus province. In the forbidding bush and teeming, fetid displaced persons camps, food is scarce and the people are on edge, ready to run at a moment's notice.

This is one of 195 million stories of malnutrition. Sign the petition to help us rewrite the story.
Reblog
16/09/11
URL
Can Hyperlocal Save Lives?
Somali refugees in Kenya lack basic access to communication and information about the aid and services available to them. From Internews:
The assessment surveyed over 600 refugees and shows that large numbers of displaced Somalis don't have the information they need to access basic aid: More than 70 percent of newly-arrived refugees say they lack information on how to register for aid and similar numbers say they need information on how to locate missing family members. High figures are also recorded for lack of information on how to access health care how to access shelter, how to communicate with family outside the camps and more.
The report suggests a number of excellent solutions:
The report makes several recommendations, including: conducting workshops on communications for humanitarian organizations; establishing a humanitarian communications officer in Dadaab for communicating with affected populations; increasing support to Star FM, the main Kenyan broadcaster in Somali language, for broadcasting local humanitarian information; and establishing a communications research hub and a media training center for both host and refugee communities. It is important to note that the UN Refugee Agency (UNHCR) has already set up an Information Dissemination Group to specifically look into the communications needs of local communities "in the light of the current emergency and identified gaps by Internews' assessment" (page 11).
What are some of the other ways that communication and access to information can be increased within the Dadaab camps? 
Generally when media makers theorize on hyperlocal content, they consider it only in the context of developed communities with ready access to communication infrastructure (internet, television, etc). Further it is usually considered only as a complement to wider-scope media (such as the pairing of local news with nightly national news in the United States). 
But the camp in Dadaab provides an especially difficult case, with its lack of access to most IT infrastructure (meaning no Facebook, no crowdmapping), and its need for exclusively local content (no need for international media organizations). The solutions that might immediately come to mind are almost certainly unworkable here.
Instead what is required is a concentrated effort on building the capacity of locals inside the camp to communicate and access information themselves. With this in mind, we can judge the recommendations of Internews' report to be very much on the right track.
Expanding existing media systems, such as their example of StarFM, and developing the capacity of community leaders, as shown in the video, to provide their constituency with the necessary information will help move toward a realistic solution within the constraints of life in the refugee camp.
What else can be done? And what lessons - on hyperlocal media, on community information and communication, and on development, can be learned from the case of Dadaab?
Reblog
16/09/11
URL
Via @IREXmedia:
Media outlets based in Montserrado county have benefitted from 50 laptops and 50 smart phones, as part of the "Strengthened Media for Transparent  Elections" initiative being implemented by the Liberia Media Center and IREX-Liberia.

An unprecedented 35 owners, managers and Editors–in-Chief of media institutions converged at the LMC office in Jallah's Town where they signed a Memorandum of Understanding that donated laptops, phones, cameras and recorders will be used by journalists trained to use the equipment at the Elections Reporting Center.
Patrick Meier at iRevolution offers some potential best practices for crowdsourcing responses to crises:
On the humanitarian side, the American Red Cross has begun to leverage their trained volunteers to manage responses to the organization's official Facebook page, for example. With some good foundational guideposts and training tools, they should be able to scale this solution. In some ways, one could say that humanitarian organizations are increasingly required to play the role of "telephone" operator. So I'd be very interested in getting feedback from iRevolution readers on alternative, social media approaches to customer service in the private sector. If you know of any innovative ones, please feel free to share in the comments section below.

The second strategy that humanitarian organizations need to consider is linking this new customer service system to networks of citizen crisis responders. An "operator" on the ARC Facebook page, for example, would triage the incoming posts by "pushing" them into different bins according to topic and urgency. Posts that don't reflect a life-threatening situation but still require operational response could simply be forwarded to local citizen crisis responders. The rest can be re-routed to professional emergency responders. Geo-fenced alerts from crisis mapping platforms could also play an important role in this respect.
Meier then poses a question: "So where are these 'new' citizen crisis responders to come from?" He suggests a number of good starting points, including the UN Volunteer system and university-based programs for students. The vulnerability with these options is that they rely heavily on large institutions, be that a school or the United Nations. If history is any guide, it is precisely these institutions that will fail, or simply become inaccessible, when disaster strikes. 
How do we avoid this vulnerability? One idea might be a "Public Service Announcement" approach, in which governments, NGO's, or universities focus on educating locals about disaster response ahead of time. By the time a Pakistani village is flooded or a riot has erupted in a London neighborhood, it is too late to begin educating on the proper channels, the right Facebook page or SMS number, for seeking assistance, aid, etc. Preparing the audience ahead of time with PSA's offers something of a head start for crisis responders.
Not everyone would take these PSA's to heart of course, but those that do would provide an enormous base from which to draw these "new" citizen crisis responders.